Quit Smoking Laser Acupuncture
Quit smoking with laser and acupuncture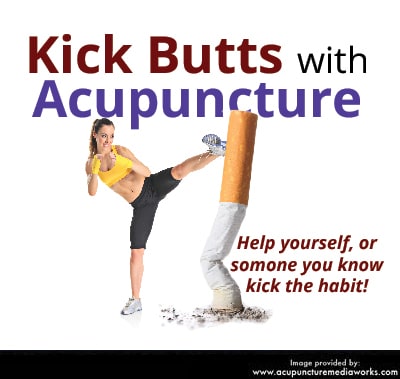 At Almond Wellness Centre Acupuncture clinics, we use laser and acupuncture as the main treatment to help people quit smoking.
Quit now!
With or without needles
Choose to have acupuncture or laser only
Reduce cravings
Stop cravings, reduce withdrawal symptoms
Feel calmer and relaxed
Feel calm and relaxed during and after treatment
Sessions and Pricing
Treatment generally need from 4 to 6 sessions. Each session last for 20 to 30 minutes
---
Frequently Asked Questions
How does laser quit smoking?
Laser acupuncture uses a cold laser beam to point on the acupuncture points which located on the ear and body. Focusing the laser beam on these areas causes the body to release natural chemicals such as endorphins. Endorphins can help reduce nicotine craving and relieve withdrawal symptoms. Many of clients report a calming relaxing feeling following a laser acupuncture smoking cessation treatment.
In addition to stimulating an endorphin release, the laser stimulates the body"s natural ability to detoxify the nicotine, getting the ex-smoker through the nicotine withdrawal more quickly.
Which acupuncture points are used with laser acupuncture for quitting smoking
We use the following acupuncture points mostly, however varies according to individual conditions
Ear points: Ear Shenmen, Mouth, Lung, Sympathetic, External nose, Adrenal, etc;
Body points: HT7, PC7,LI4, Tianmi, etc;
Each point will have laser beam for one minute.
How many sessions do I need laser acupuncture for quitting smoking?
Generally from 4 to 6 sessions.  Each session last for 20 to 30 minutes
Is laser quit smoking safe?
The beam used for laser quit smoking is very low energy and is not harmful to human body. Somebody call it Lower Level Laser, or cold laser. Actually you will feel nothing to very little during the treatment.
All our practitioners are well trained and put safety as our first priority at all time.
Does laser acupuncture hurt?
Actually during the treatment you may not feel anything. Sometime you may feel a slightly warm sensation on a specific point but definitely no pain at all.
Other Treatment that may help quit smoking
In your acupuncture treatment, you may receive ear seeds or ear needles. These seeds or needles are held in place on the ear with a small piece of adhesive tape, and are located on specific points in your ear which help reduce anxiety and stress, calm the mind, cleanse the lungs, open the chest, reduce the appetite, and strengthen will power.
When a craving occurs, rub each of the ear seeds for approximately 15-30 seconds. Rubbing them throughout the day will help fortify and support your acupuncture treatments.
Tips for quit smoking
Quit Smoking Tips
Below, I have listed a few quit smoking tips or techniques that have been proven effective in helping to combat your cravings. As long as you employ one or more of these concepts, you take another step toward a healthier and happier smoke-free you!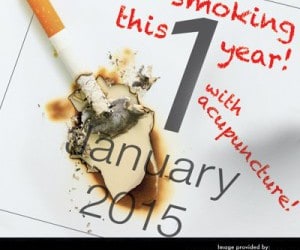 First step: when and where are your cravings?
Research about laser acupuncture quitting smoking
Rodney Choon Huat Lim. Med Acupunct. 2018 Jun 1; 30(3): 159–162. Painless Laser Acupuncture for Smoking Cessation
Author's conclusions: The PLA technique for smoking cessation, combined with the principles of TCM, not only helps smokers stop smoking but also restores their homeostasis and good health. By selecting the optimal auricular and body acupuncture points and meridian channels and applying laser energy dosages, the homeostatic hence healing process can be synergized.
White AR, Rampes H, Liu J, Stead LF, Campbell J. 2014 Jan. Do acupuncture and related therapies help smokers who are trying to quit
Authors' conclusions:
  Although pooled estimates suggest possible short-term effects there is no consistent,
bias
-free evidence that acupuncture, acupressure, or laser 
therapy
 have a sustained benefit on smoking cessation for six months or more. However, lack of evidence and methodological problems 
mean
 that no firm conclusions can be drawn. Electrostimulation is not effective for smoking cessation. Well-designed 
research
 into acupuncture, acupressure and laser stimulation is justified since these are popular interventions and safe when correctly applied, though these interventions alone are likely to be less effective than evidence-based interventions.
Authors' conclusion: The results that emerged from the data indicated that acupoint stimulation using lasers does indeed modify the physical symptoms of withdrawal and make it possible for motivated persons to succeed in overcoming habitual smoking of tobacco, and this was further supported by the subjective comments made by the participants themselves, especially during the treatment phases and at the follow ups at three and six months. It seems that therapy involving acupoint stimulation is best given as a course of several treatments on at least four and possibly more occasions. Further studies would be needed to determine the optimum number.
Have questions? Want to make an appointment?
Call now!
Coburg clinic: 03 9378 9479
Ringwood clinic: 03 8802 1519
Or message us here